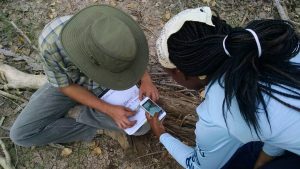 General Statement: I welcome inquiries from those interested in pursuing a Master's of Science degree in vertebrate ecology with an emphasis in herpetology, ornithology, or conservation biology.
There are ongoing projects in the lab that might be of interest or students may develop their own research projects. If students are interesting in volunteering on the Gateway trapping project and getting experience in wildlife studies, please contact me.
New Masters Grad Position starting in May 2024. This will be a 2-year funded position. The deadline is TBA but feel free to reach out to Dr. Bateman with interest and questions. The San Pedro is a beautiful system for herps and we are looking for someone with live-trapping skills to relate community to changes post biocontrol beetle. We will also hire an Undergraduate Technician position for the summer of 2024 too. See project Impact of Salt Cedar Biocontrol.
I encourage those interested to contact me and to arrange a campus visit so you are able to make a well-informed decision about what life is like in the lab, the ASU's Applied Biological Sciences program, ASU's Polytechnic campus, and the Phoenix – Mesa areas.